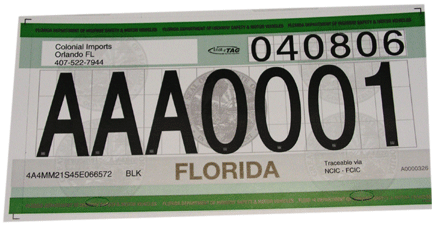 INSTeTAG Tested and Ready for Florida Rollout


05/25/07 The INSTeTAG Print on Demand system was successfully piloted in Orange County Florida in the spring of 2006. Since then dealers throughout Florida have been voluntarily converting to INSTeTAG's Print on Demand, Tag Registration System. For the past 14 months, the INSTeTAG system has been tested and successfully operated in a variety of dealership environments. From one man operations to mega dealerships, the INSTeTAG system can be easily integrated into a dealership's current process for issuing temp tags.

INSTeTAG provides new efficiencies for issuers and reduced liability for dealers. Issuers print their Temporary Tag, Temporary Registration, and Insurance Affidavit on a single form. The tag is simultaneously registered with the DMV and recorded in the dealer's electronic temp tag log. The electronic registration process is faster than manually completing the forms, handwriting the temp tag and then recording in the temp tag log.

Pre-Printed tag shells are ordered via the system and delivered directly to the dealer's location. Now when a buyer displaying an INSTeTAG gets a parking or toll road violation, the citation gets sent directly to the customer's address, instead of the dealership. This eliminates the hassle of responding to those citations by dealership employees.

The INSTeTAG system also provides a free connection to the Department of Treasury, Office of Financial Asset Control, Specially Designated National's List allowing dealers to meet their Federal Requirement to look up a buyer in the SDN database prior to the sale and delivery of any motor vehicle.

PODETR guarantees a dealer's temp tag log is 100% accurate, eliminating the worry of violations and accompanying fines from the DMV. The dealer's civil and criminal liability for illegal distribution of temp tags by employees is also significantly reduced.

The dealer's cost for INSTeTAG's PODETR is negligible. The INSTeTAG printer is provided to the dealer at no cost. INSTeTAG also provides customer support, and when required, onsite service for the printer free of charge. The cost per tag registration can be passed to the buyer making the cost of using INSTeTAG minimal or even profitable if the dealer wishes to add a reasonable markup on each tag registration.

As compliance deadlines approach, available scheduling times for printer installations and dealer training will become increasingly difficult to guarantee. Dealers are encouraged to schedule early to ensure installation and training dates have been confirmed before their deadline passes.

INSTeTAG's Dealer Relationship Representatives are available to answer all your questions. For more information please call 407-254-0806, Ext. 2.